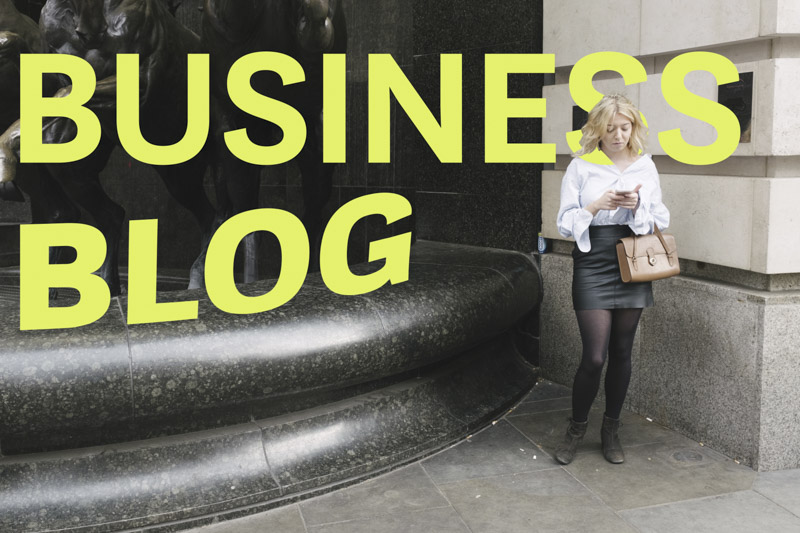 How To Create Your Own Business Blog in 7 Steps
Building a blog for your company website can be challenging, but don't get discouraged: check out these 7 steps to help you effectively build your own business blog and get the most out of it.
Successfully running a business blog (also referred to as a company blog or corporate blog – call it what you like) is a bit of a challenge. We know, we've been there! It's what we do here at Contentfish and we come up against these challenges everyday. So we've got a pretty good idea of what you're up against.


While an ad or social media post might only consist of a few words or sentences, a standard blog article is usually upwards of 900+ words that have to be researched, written and edited. Then you have to consider Search Engine Optimization to increase organic web traffic – because who wants to do all that work and have no one read it? And you know that your competition isn't sleeping on the job – they're churning out their own content. As a content or blog manager, it can feel like you're in a never-ending race against time, budget restrictions, and competitors.


With good planning and a solid strategy, you can overcome these challenges to create a successful business blog. It'll be well worth the time and effort, and will help to ensure you stay ahead of the competition: according to HubSpot, businesses that blog get 55% more website visitors than businesses that don't, and, according to SEO Tribunal, receive 97% more links to their website.
Follow these 7 steps and you'll make your own business blog a long-term success.


Step 1: Develop a Content Strategy with Buyer Personas
Your business blog should be a pillar of your Content Marketing Strategy – blogging is an ideal way to share content that's interesting, relevant and helpful to your customers and can help them make informed purchase decisions they'll feel good about. They can also help build brand awareness, generate leads, and maintain customer loyalty – you just need a content strategy that matches both your company and your target group, the so-called Buyer Personas.


Here's how to do it:


Create Buyer Personas for Your Company Blog
The Buyer Persona is your hypothetical ideal customer. Based on data from existing customers, market research, as well as your own informed assumptions, you can design a semi-fictional representation of your target group(s). The CMS provider Hubspot has designed a free tool to help you quickly and easily create your own digital buyer personas.
Find the Right Content & the Right Channels
Once you get acquainted with your buyer persona, you'll get a better idea of what content will be interesting and relevant to them. Are they looking for "How To" guides, news articles on the latest trends in your industry, or simple product comparisons? Are they looking for more extensive information packs that you could provide in the form of downloadable content? Once you have a good idea what they're after, you'll be able to develop a blogging strategy and provide content that will consistently generate solid leads.


The same goes for choosing which social media channels to share your blog posts on. Are your potential customers more active on Facebook or Linkedin, for example? Once you know where your buyer persona is hanging out online, you can share your business blog's content where they're most likely to see it.
Choose the Right CMS
Maybe you're already working in-house or with one of the top 10 Content Management Systems (CMS) like WordPress, Shopify or Joomla, but if you're still hunting for the CMS for your business blog that best fits your company's website, it's worthwhile to seek professional advice from a CMS expert to help your carefully weigh your options. Each system has its advantages and disadvantages – and the one you choose is the one you're going to have to live with once it's up and running.


Think Longer-Term
When it comes to content marketing, it makes sense to think several months ahead. Building a successful blog takes time and perseverance. It'll take a few weeks for each of your blog articles to get some real traffic. Meanwhile you need to keep getting new content out there to expand your readership. The best way to balance this is to draft a longer-term editorial plan and keep publishing new content regularly. This way your subscribers and regular readers will get to know they can expect new blog posts on relevant topics in your industry on, for example, a weekly or bi-weekly basis.


Step 2: Use an Editorial Plan/Calendar
Good planning is essential in content marketing. Without it, you'll lose sight of the bigger picture and can easily go into procrastination mode: business blogging is both time consuming and requires focus, and that kind of task is always tempting to keep putting off until later. Often you'll be working with colleagues from your marketing team and other departments which adds another level of organizational challenges. A tidy and precise editorial plan and editorial calendar will ensure a transparent, timely and target-oriented implementation of your content marketing strategy.


Here at Contentfish we use 2 different types of editorial plans + tools to bring our customers' business blogs to life:


Trello
Trello is a fantastic free tool that we've found indispensable in our day-to-day work. We use it to organize projects, and it also serves as our Editorial Calendar.

It functions using boards for each project/company blog, and each board contains cards with the individual tasks to be accomplished within the larger project. Each card contains all relevant and important information necessary for completing the task, and you can clearly mark which team members are responsible for each task and when it needs to be completed by. Trello is a really helpful tool for detailed work on individual posts as well as the larger organization of your professional business blog.


Editorial Plan with Excel
The Excel plan is a bit more static and less interactive than Trello, but it gives you a bigger overview right off the bat.

It gives everyone involved a clear picture of what content is in the pipeline to be planned and published in the upcoming weeks and when. It's a good place to see whether you've set clear, realistic, and achievable goals. For example, have you considered all buyer personas equally? Are the relevant keywords set and checked regularly? Which calls-to-action are available, etc. A static editorial plan using Excel (or another similar program) is great for providing clarity over a longer period of time as well as keeping an eye on the longer term goals you're setting.


Step 3: Focus on a Broad Audience to Start
Your first task is to draw reader's attention to your business blog and encourage them to stick around. For all the hassle of content marketing to be worth it, your readers need to get something of value out of your content that helps turn them from a potential customer into an actual customer. You'll do that by bringing your expertise online to provide interesting and valuable information that'll help them along in their buyer's journey. And the more potential customers you can reach, the better – at least to start off with. Later on, when you find you have a more well-defined readership, you can focus on more niche topics and get more specialized.


Here are some tips to help you get a wider audience for your blog content at the beginning:


Create High-Quality Content
Nothing is more frustrating to your potential customers than investing their time reading what looks like a potentially helpful blog post only to find that the content is poorly researched, superficial, and of little value to them on their buyer's journey. If you waste their time, they won't stick around. High-quality content has to be your top priority: it's essential for the success of your business blog.


Structure Business Blog Articles More Strongly Than in Print
Online readers behave differently than print readers. They often won't read the entire article all the way through; many (if not most) will instead scan the content for the specific information they're looking for. Structure your business blog posts using a table of contents with anchor text, use lists, and create clear headers to make it easier for your readers to navigate and locate what they're in search of.


Use a Professional Keyword Analysis Tool
Using a keyword analysis tool will help you with both your SEO and overall content strategy, and as a bonus it can also provide you with new ideas for content creation. So while you're optimizing your current blog content for specific keywords, you might just stumble upon a keyword you hadn't thought of that can form the basis of your next blog post. Both ways. you'll be boosting your organic traffic and increasing the relevance of your company blog.


Make it Clear Enough for Everyone to Understand
As the content manager or resident expert in a specific area at your company, you'll know your field inside and out, and of course you'll be able to talk about it at a high technical level. But on your business blog, the idea is to reach as many people as possible. Many of them may have minimal technical knowledge of the subject matter. Even if you've really gotten to know your buyer persona, you still can't be sure how deep they're willing to wade into highly technical or complex subject matter, especially at the beginning. So try to use clear, understandable language and break down complex topics into easily digestible bites. Don't worry, your reputation in your field won't suffer, and your target audience will understand your message better for it.


Step 4: Produce Content in Advance
Your day-to-day work routine is always changing – some days you'll have plenty of time to accomplish all the tasks you've set out for yourself, other days you won't even have time for a cup of coffee. Unanticipated meetings and client demands can disrupt the time you've set aside for content planning and creation, and it can end up being difficult to reach the content marketing goals you've set. That's why it's essential to have a small supply of previously created, high-quality content in reserve. And since it's unlikely you'll consistently have time to create all the content yourself, you should look into alternative sources to keep your business blog active and up-to-date:


Other Experts in Your Company
Every company has resident experts who are interested in writing, or who can at least be available for a comprehensive briefing. Ask around in your company and see if you can find colleagues passionate about their subject area and interested in sharing that knowledge. When experts write, you may need to take some time to help convert what they have to say into blog format, but ultimately the quality of the content is usually higher.


Professional (Inbound) Copywriters
If you need a lot of high-quality content in a hurry, then professional copywriters are the way to go. Copywriters who are specially trained in inbound marketing will know exactly how well-functioning business blog articles are created, and can perfectly tailor them to fit the buyer's journey as well as how to optimize them for organic traffic.


Copywriter and Content Platforms
Many copywriters now offer their services via platforms like Fiverr or Freelancer.com. Some are formally trained writers, others just like to write and write well. If you already have a well-developed content strategy complete with buyer personas, a reliable keyword analysis system and a solid briefing for article structure & style, an experienced copywriter can take it from there and create high-quality content for your business blog.


Step 5: Respect Basic On-Page SEO Factors
SEO (Search Engine Optimization) is a bit more complex than most people want to admit. There's a reason there are more and more SEO experts who's full time job is optimizing individual websites. Even so, anyone who creates content for the company blog can help out by keeping some basic SEO principles in mind.


Here are the most important on-page optimizations to think about when working on your business blog:


Keyword(s):
Each blog post should be optimized for one main keyword. This can also be a short phrase, or long-tail keyword. It should appear in the title and throughout the body of the text in a natural and meaningful way. Artificially stuffing it in won't help you much and should be avoided. The same goes for any additional, secondary keywords you may want to include – these should be words/phrases >related to your main keyword and serve to help search engines better understand, contextualize and rank your page.


Meta description:
The meta description should be 160 characters max. and should encourage the reader to open the blog post. Check out SEO tool provider Sistrix for a very clear and helpful explanation of the optimal meta description.


Title, Headings & Subheadings:
As a basic principle, format your blog article's main title (and only the main title) in H1, headings in H2, and subheadings in H3/H4 accordingly. If your readers can already get a basic understanding of your blog post just from glancing through the title, headings and subheadings, you'll know you've created a structurally sound business blog post, so keep that in mind as a goal.


Lists:
The more structured your blog article is, the more likely Google's Site Crawlers will recognize its user relevance. A great way to add structure to your business blog post is through the use of lists. Both ordered (lists with numbered points) and unordered (lists with bullet points) lists are effective and highly recommended.


Internal and External Links:
Make your blog post more interactive and user-friendly including links to other relevant pages on your own company website (internal links) as well as links to other websites your readers might find helpful (external links). With external links, just be careful and make sure the site you're linking to is up to your own high standards with reliable and accurate information.


Graphic Elements:
Finally, you'll want to make your business blog post visually pleasing and help break up dense blocks of text with some pictures, videos or graphics. Just make sure to keep the file sizes as small as possible so you don't reduce the page speed. Google's Site Crawler only reads snippets of code in word form, so it'll be helpful to set alt attributes and label the graphic elements appropriately.


Step 6: Grow Your Newsletter Subscriber List
Once you've created and optimized enough content for your business blog, it's time to start growing your readership. Since organic traffic will take a few weeks or even months to noticeably increase, new blogs tend to get their initial traffic from emails or shared links. So it's a good idea to concentrate on increasing the number of subscribers to your company newsletter as a first step.


Depending on your industry and organization, here are some effective ways you can reach potential subscribers and increase your regular readership:


Direct e-mails to potential readers
A pop-up call-to-action on the business blog page
A call-to-action within or at the end of a blog post
Shares thru LinkedIn, Twitter, Xing & Co


Step 7: Optimize Your Writing Skills and Work in a Team
Working closely with colleagues from various departments makes it much easier to create an effective, functioning corporate blog. Particularly when it comes to creating Buyer Personas, having team members from customer service, sales, marketing and accounting on board will be key. These are the people that come into contact with real live customers at various levels on a daily basis, and their knowledge will be invaluable in building an accurate picture of who your target customer is and what they're looking for. Your content strategy will come together more quickly and efficiently with input and help from in-house experts and social media managers, and if you have a solid editorial plan and calendar in place, delegating and keeping things organized in a team setting should be a breeze.


As a content manager you'll often be wearing your writer's hat one minute and your editor's cap the next, and it'll be important to constantly sharpen your critical eye and steadily improve your own writing chops. Read more, broaden your view and increase knowledge in various related subject fields, and work to break old habits that are holding you back or slowing you down. Keep up to date on the latest SEO and blogging trends, but make sure to nurture your own personal writing style and indulge in unrelated reading that helps ignite your creative spark.


Conclusion
Just going on the length of this article alone, you can see that it takes a lot to start up a successful business blog…and we just gave you the 7 most important steps. We won't lie and say there won't be more work involved and other challenges that will present themselves along the way, because there surely will be. But you persevered and made it to the end of this blog post, so now you have the tools to get started and persevere through build yourself a successful company blog! The benefits to your business will make it worth the effort. Remember, good planning and a well thought-out content strategy are the key ingredients in cooking up a high-quality business blog regardless of you industry, size or target group.


So go on and get started, and don't hesitate to visit us again for more tips and ideas to help along the way.